Equality & Anti-Oppression
Activist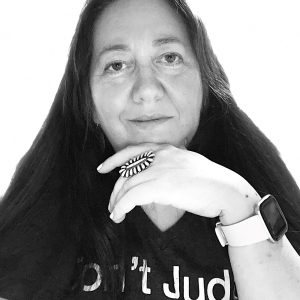 Christi Belcourt
A Métis visual artist from Alberta, Christi Belcourt (apihtâwikosisâniskwêw / mânitow sâkahikanihk)  is not afraid to examine the darker parts of Canadian history, focusing on the experiences of Indigenous people and exploring topics such as biodiversity, the environment, and more.
Belcourt's work is inspired by Canadian colonial history and stories of flight, violence, survival, and healing. She works across multiple mediums, including clay, copper, wool trade cloth, and other materials.
To learn more about Christi Belcourt's visual arts practice and activism, please follow her on Facebook @ChristiBelcourt, Twitter @christibelcourt, or on Instagram @christi_belcourt.
More Details